Topside Yacht Enamel
Quart - $30.00 any color
Gallon - $105.00 any color
POR-15® Topside Yatch Enamel is a premium quality state-of-the art polyurethane finish designed for above-the-waterline topsides and decks. We guarantee you'll find it's best product of its kind available anywhere with the best hiding power in the industry! One coat, when used with our marine primers, is guaranteed to give you 100% hiding power. As with all POR-15® coatings, our Topside Yatch Enamel has a higher solids content than other marine coatings because they're packed with hard-working resins that stay on your boat rather than thin solvents that evaporate into the air as the surface dries.
These great yatch enamels are so excellent when used over POR-15® Rust Preventive Paint.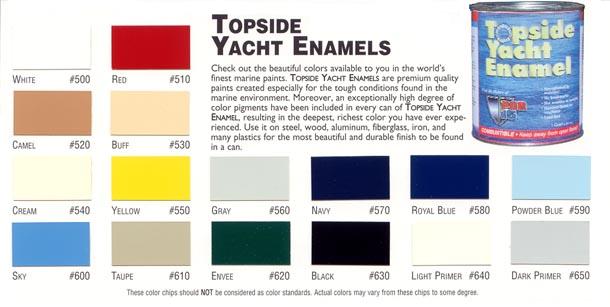 Metal Ready ™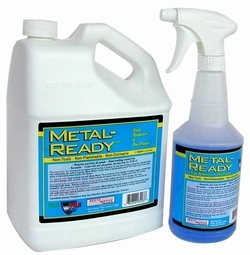 Metal-Ready™
20 oz. Spray - $14.25
Gallon w/spray bottle - $31.75
METAL-READY™ provides the best adhesion for POR-15® on any surface, including aluminum and shiny polished metal surfaces. Our simple process gently etches metal, creating an ideal anchor pattern for coatings such as POR-15®, while simultaneously leaving a zinc phosphate coating to insure chemical bonding of paint and steel. Avoid other preps that may leave harmful residues which prevent proper adhesion.
After thoroughly degreasing your work piece, apply environmentally safe METAL-READY™ to both neutralize any rust and etch any clean bare metal. This will allow better adhesion of POR-15® or any other paint. METAL-READY™ is not caustic, corrosive, toxic or flammable.
Marine-Clean ™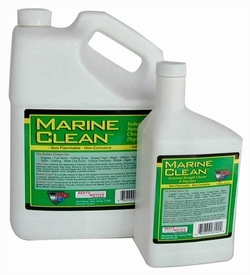 Marine-Clean ™
Quart Spray - $11.00
Gallon w/spray bottle - $21.00
Marine-Clean™ cleans and degreases in one application without leaving residues, noxious fumes or flammable solvents. No ohter cleaner works as fast or as well. It makes petroleum- based cleaners almost obsolete because Marine-Clean™ can be diluted with water up to 3, 4, 5 and even 10 times its volume while remaining more potent than other cleaners. Marine-Clean™ removes grease, oil, mildew, algea, musty odors, soap films, wax. Use it to clean canvas, vinyl, nylon, holding tanks, grease traps, auto poarts and more.
See the difference Marine-Clean™ can make at home, work or play. Even if you're fairly sure your work piece is clean, hit it with the Marin-Clean™ to be absolutely certain of good adhesion. Includes convenient spray bottle.
AP-120 Metal Prep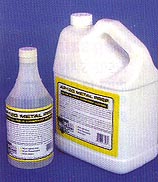 AP-120 Metal Prep
20 oz. - $10.00
Gallon w/spray bottle - $32.00
Designed exclusively for use with our great GLISTEN PCTM clearcoat, AP-120 prep guarantees perfect adhesion of GLISTEN PCTM to any metal surface, especially chrome or polished aluminum, where good adhesion is often difficult to achieve. AP-120 is non-flammable with no noxious fumes. Wear rubber or latex gloves when using.